Turn Up the AC!
Summer is heating up and when you're camping, the last thing you want is your ac to quit on you. At Turbos RV, we understand that in the heat of summer, your air conditioner is your very best friend.So Turn Up the AC!
Whether it is a Dometic, Suburban, or anything in between, Turbos technicians are there for all your AC needs. Whether it's dated back to 1955, or if it is the newest model, Turbo's motto is always "repair before replace."
We understand that repairing an ancient AC isn't always the safest option, so Turbos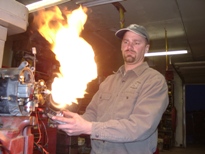 RV can get you up to date with new products at great prices. In fact, we have a rig in our shop where Eric is not only updating the AC unit, but he is custom building a support system to make it look better than ever inside and out. So this Fourth of July, Kick back and relax with your cool Rv, and if it ever gets too warm for comfort, give Turbos Rv a call!
Written By Kendal