About us: we are a local family-owned business started in 1999, Turbo's RV serves the Pikes Peak region by bringing quality and friendly service to you.
Eric VanDenHoek: I have a vast background from growing up on a South Dakota farm to software application development manager and consulting for utility companies.  I am a very detailed troubleshooter and have certification too many to list here…  I am the owner, manager, tech, custodian…  You get the picture of a small business owner.
Madeline: Madeline is our HR and Account Payable.  As my wife, she keeps me in line. 🙂
Lisa: With a background in customer service and call centers, Lisa brings much to our business. She is the one keeping our office and appointments in order.  Be nice to her- she schedules all appointments!
Nick: Nick has been with us since he was a sophomore at Lewis Palmer.  He is learning the trade as an assistant and will hopefully stay with us after graduation.
Jon: Jon is our newest asset and has been picking up the trade very quickly.  His background includes plumbing and appliances.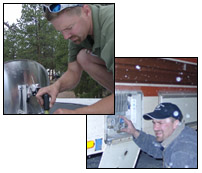 Warranty & Insurance Work
Awnings
Appliance Repair
Truck Accessories
Parks & Accessories
Trailer Brakes & Lighting